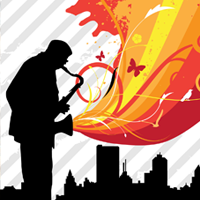 Uptempo Smooth Jazz
Uptempo Smooth Jazz is a special selection that specializes in more energetic, uptempo songs. It is programmed by Jimi King, the director responsible for all our Smooth Jazz channels.
Many Smooth Jazz artists occasionally inject a little more energy in their albums, and it was a shame to overlook these tracks because they don't quite fit the mood of the conventional Smooth Jazz channel.
Uptempo Smooth Jazz is the answer to that problem. Consider it a great companion to your morning coffee or to become motivated for the workday.
Catch Jimi King live by video
from his London studio. Details »
Check out Jimi's Smooth Jazz Blog for new insights into the Smooth Jazz community.